Lewis Hamilton has won the 2015 Japanese Grand Prix at the Suzuka Circuit after starting from 2nd place. The British driver got a brilliant start to draw alongside his team-mate into turn 1, with Rosberg losing positions and falling to 4th as a result. The win means that Hamilton has extended his championship lead, with Mercedes now in a position to win the Constructors' championship next time out at the Sochi Autodrom in Russia.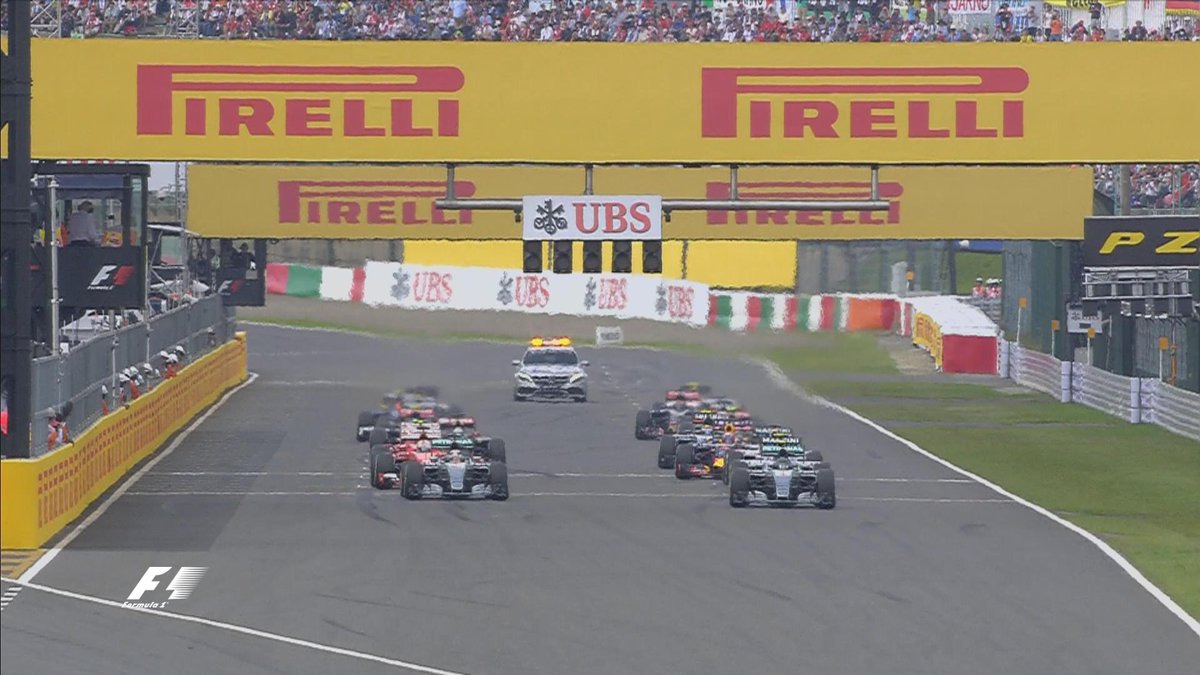 As the lights went out, it was Lewis Hamilton who got a lightning getaway from 2nd on the grid to draw level on the run down into turn 1. Nico Rosberg was holding onto the position around the outside, but on the exit of turn 2 he suddenly fell behind after being squeezed to the outside by Lewis, also losing places to Sebastian Vettel and Valtteri Bottas in the process.
A number of drivers hit issues, with Sergio Perez going off at turn 1 after squeezing Carlos Sainz down into turn 1 before rejoining and heading back to the pits. Both Daniel Ricciardo and Felipe Massa made contact before they even reached the first turn, with the pair both coasting back to the pits with punctures.
Hamilton quickly starting making the most of his great start by pumping in a number of consecutive fastest laps to open up a 4 second lead over Vettel by the start of lap 7. His team radioed him requesting that he build up a 10 second lead over the course of the first few laps. Bottas was struggling to keep with Hamilton and Vettel, with the Williams driver around 4 seconds behind Sebastian , but 2 seconds ahead of Rosberg. Raikkonen had moved up to 5th, but he was consistently a second a lap slower than his team-mate.
A number of drivers made their first pit stops fairly early on laps 9 and 10, with Max Verstappen pitting to try and get the undercut on Felipe Nasr; whom he had been stuck behind for a number of laps. The Toro Rosso didn't seem to have the grunt to be able to use DRS to pass the Sauber into turn 1. Nasr pitted at the end of the next lap and re-emerged well behind Verstappen, who made the most of his fresh rubber on his out-lap to take the position.
Valtteri Bottas was the first of the front-runners to return to the pit-lane from third on lap 12, with Nico Rosberg having just been told to push hard and overtake the Williams driver. No one followed him in on the next lap, but Vettel came in the lap after that from 2nd. He rejoined ahead of Bottas, with the pair opting for different strategies as Bottas had gone on the faster Medium tyre and Vettel on the slower Hard tyre. Raikkonen pitted at the end of lap 14 and opted for the same strategy as team-mate Vettel.
Nico Rosberg was the first of the two Mercedes drivers to make his first stop at the end of lap 15, with the later stop not working out for Nico as he fell back down to 4th as Vettel and Bottas passed him. Hamilton pitted from the lead at the end of the next lap, with a lead comprising of almost the entire start/finish straight as he rejoined ahead of Vettel.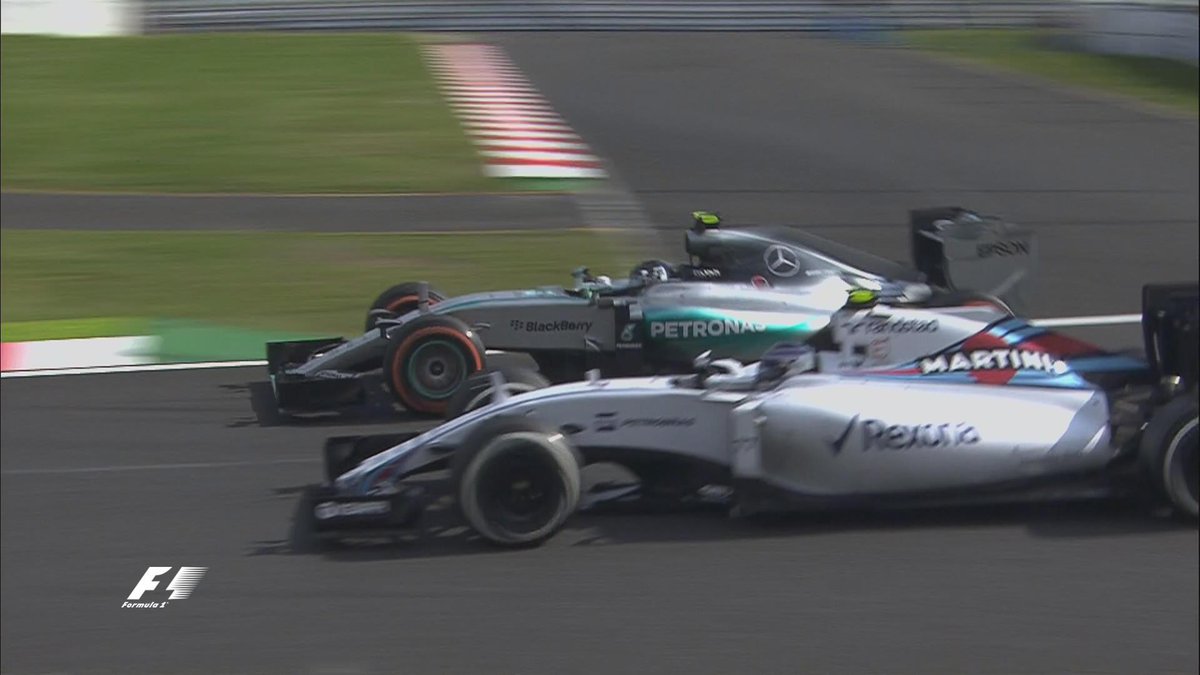 Rosberg finally started his comeback after his poor start to the race by pulling off a brave move up the inside of Bottas for third at the final chicane. Bottas squeezed him as hard as he could, but the Mercedes driver managed to get the move done and take the position.
The middle stint wasn't the most electrifying as many drivers stayed put, but one man breathed a bit of life into the race with another sensational move. Max Verstappen had been lining up for several great moves throughout the race, with his Renault engine letting him down or the driver ahead pitting on several occasions to deny him. He finally pulled off a great move around the outside of Fernando Alonso into turn 1. Alonso responded by getting on the radio and comparing his Honda engine to a 'GP2 engine'. Frustrations were getting the better of Alonso at Honda's home race.
Carlos Sainz pitted on lap 28 in his Toro Rosso, but in his eagerness to get into the pits he hit a cone on the pit entry; breaking his front wing slightly and putting some debris onto the circuit. Sergio Perez pointed out the debris on the radio, but there didn't seem to be enough to warrant a safety car. In the meantime, Raikkonen pitted for final stop, with Rosberg and Bottas following him in on the next lap. Raikkonen managed to jump Bottas, but Rosberg was too far ahead for there to be a chance.
Sebastian Vettel made his final stop at the end of the next lap, with Nico Rosberg just about winning the drag race down into turn 1 as he flew around the outside to take 2nd place. Rosberg's target now was to try and close the gap to his team-mate, who rejoined after his final stop with an 8.9 second lead with 20 laps to go despite a new fastest lap for Nico. It looked unlikely that Nico would close the gap, with Hamilton opening up a further 1.3 seconds on his first flying laps after his stop.
In fact, Rosberg's main issue soon changed from chasing down his team-mate to holding off Sebastian Vettel. The Ferrari driver was 2 seconds down on Rosberg after their final stops, with Vettel briefly closing to within a second thanks to lapped traffic. Rosberg was able to pull the gap back up to 2 seconds once more once they navigated the traffic.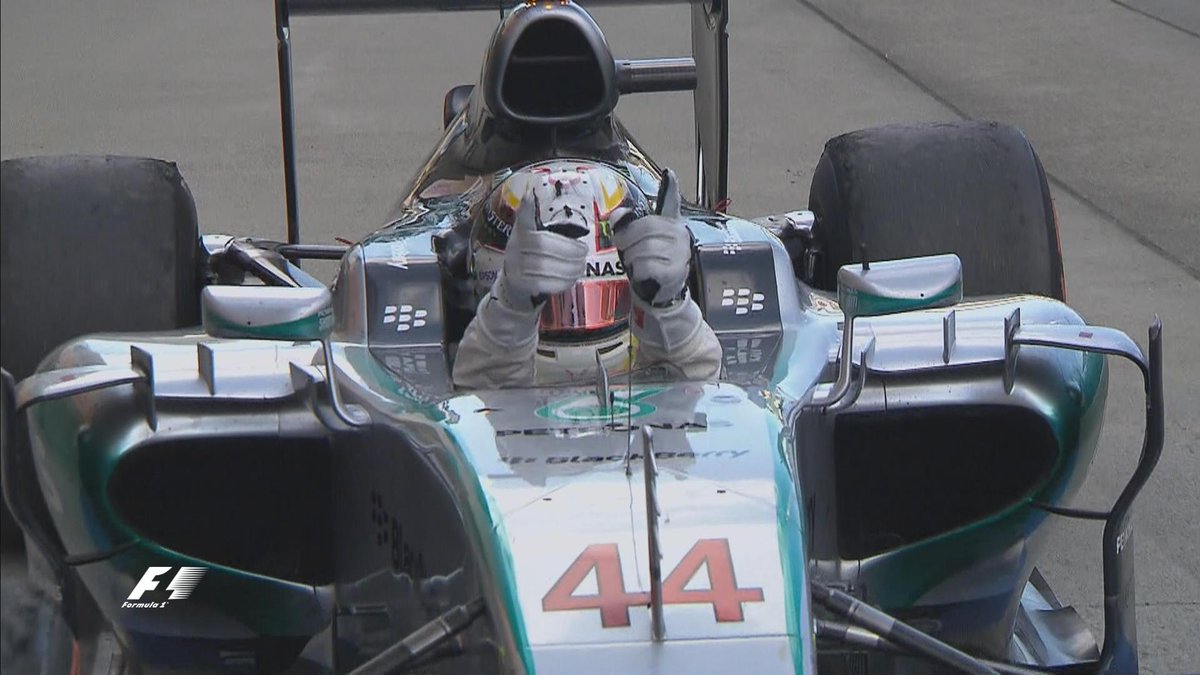 Up at the front, Hamilton was continuing to build up his lead over his team-mate. He had soon opened it up to an astonishing 16 seconds; a crushing performance against Nico ever since lap 1, turn 1. He crossed the line on lap 53 to take his 2nd win at Suzuka and his 2nd Japanese Grand Prix win in succession in a dominant style. The win also see's Hamilton match Ayrton Senna's tally of 41 Grand Prix wins, with the British driver now only 1 win behind Sebastian Vettel.
Nico Rosberg took 2nd place ahead of Sebastian Vettel, who was unable to use the traffic to get by the Silver Arrow for 2nd. The top 3 was exactly the same as it was a year ago, with the race conditions being almost as different as they could be after last years torrential race that ended in awful circumstances after the crash of Jules Bianchi.
Just off of the podium would be Kimi Raikkonen ahead of fellow Finn Valtteri Bottas. 6th would go to Nico Hulkenberg, who put in an impressive drive 13th in his Force India. 7th and 8th went the way of the Lotus cars of Romain Grosjean and Pastor Maldonado; a great result for the team after struggling with financial issues this weekend. Completing the points would be the Toro Rosso pairing; with Verstappen passing Sainz in a bold move up the inside at the chicane with under 10 laps to go.
McLaren-Honda were just outside of the points at Honda's home race, with Fernando Alonso coming home 11th after a frustrating race for the Spaniard. Only 1 driver failed to complete all 53 laps, with Felipe Nasr retiring his Sauber with only a handful of laps to go. He was almost joined by the Manor of Will Stevens, who suffered a scary spin at 130R before almost being collected by team-mate Alexander Rossi; who has now beaten his team-mate in both of his first 2 Grand Prix.
2015 Japanese Grand Prix results:
| | | | | |
| --- | --- | --- | --- | --- |
| POS | Driver | Team | Points | Grid |
| 1 | Lewis Hamilton | Mercedes | 25 | 2nd |
| 2 | Nico Rosberg | Mercedes | 18 | 1st |
| 3 | Sebastian Vettel | Ferrari | 15 | 4th |
| 4 | Kimi Raikkonen | Ferrari | 12 | 5th |
| 5 | Valtteri Bottas | Williams | 10 | 3rd |
| 6 | Nico Hulkenberg | Force India | 8 | 13th |
| 7 | Romain Grosjean | Lotus | 6 | 8th |
| 8 | Pastor Maldonado | Lotus | 4 | 11th |
| 9 | Max Verstappen | Toro Rosso | 2 | 17th |
| 10 | Carlos Sainz | Toro Rosso | 1 | 10th |
| 11 | Fernando Alonso | McLaren | +1 Lap | 12th |
| 12 | Sergio Perez | Force India | +1 Lap | 9th |
| 13 | Daniil Kvyat | Red Bull | +1 Lap | 20th |
| 14 | Marcus Ericsson | Sauber | +1 Lap | 15th |
| 15 | Daniel Ricciardo | Red Bull | +1 Lap | 7th |
| 16 | Jenson Button | McLaren | +1 Lap | 14th |
| 17 | Felipe Massa | Williams | +2 Laps | 5th |
| 18 | Alexander Rossi | Manor | +2 Laps | 19th |
| 19 | Will Stevens | Manor | +3 Laps | 18th |
| 20 | Felipe Nasr | Sauber | DNF | 16th |
Interested in Sponsorship?
Time for a chat then!
Fill the form below to receive news and updates about the sponsorship industry and the world of RTR Sports.
Check your inbox: one of our consultants will be in touch in minutes.