Nico Rosberg has won the 2015 Brazilian Grand Prix from pole position, with team-mate Lewis Hamilton unable to pass him during the race. The win has secured 2nd place in the championship standings for Rosberg; with Sebastian Vettel now unable to pass him should Nico have a bad race in Abu Dhabi.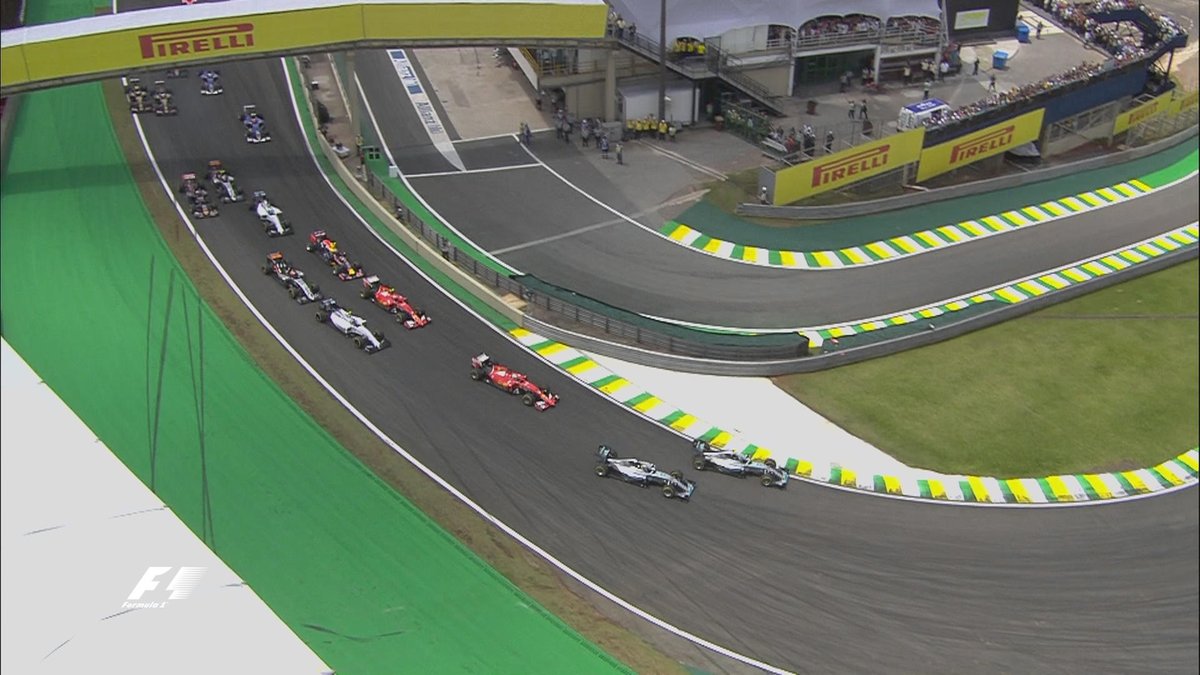 Nico Rosberg took his 6th pole position of the season in qualifying for the Brazilian Grand Prix and was hoping that he could convert it to victory like he had done 2 weeks ago in Mexico. At the start, his team-mate Lewis Hamilton had a slightly butter start than Nico, but the German cut off his chance of a move up the inside into turn 1 to hold the lead. Valtteri Bottas made up 2 positions at turn 1 after squeezing by on the outside of Kvyat and Hulkenberg.
There was a brief chance of a safety car for the stricken car of Carlos Sainz. The Spaniard had started from the pit-lane and only made it as far as turn 5 before reporting a power loss and coming to a halt. The marshals were able to clear away the car without the need for a race neutralization.
The race strategy looked to be leaning toward a 3 stop strategy as opposed to 2 stops. The first stops began at the end of lap 9 of 71. Nico Hulkenberg pitted in his Force India and used the undercut on Daniil Kvyat to good affect.
Bottas pitted at the end of lap 11, with Raikkonen having to pit soon after to try and cover off his fellow countryman; which he succeeded in doing. Race-leader Nico Rosberg and 3rd placed Sebastian Vettel pitted the next lap, with Rosberg having a slow 4.4 second stop. Team-mate Lewis Hamilton followed him in the next lap, but he unable to capitalize on Rosberg's slow stop and emerged still in 2nd place and just over a second behind.
The gap between the Mercedes drivers soon closer all of a sudden, with Hamilton moving to within half a second of Rosberg; who appeared to lose even more time into the Senna S on lap 19. Hamilton stayed right on the back of the sister car for a number of laps, but he soon started to fall back after reporting to the team that it was "impossible to follow at this track"; suggesting that he was starting to lose grip.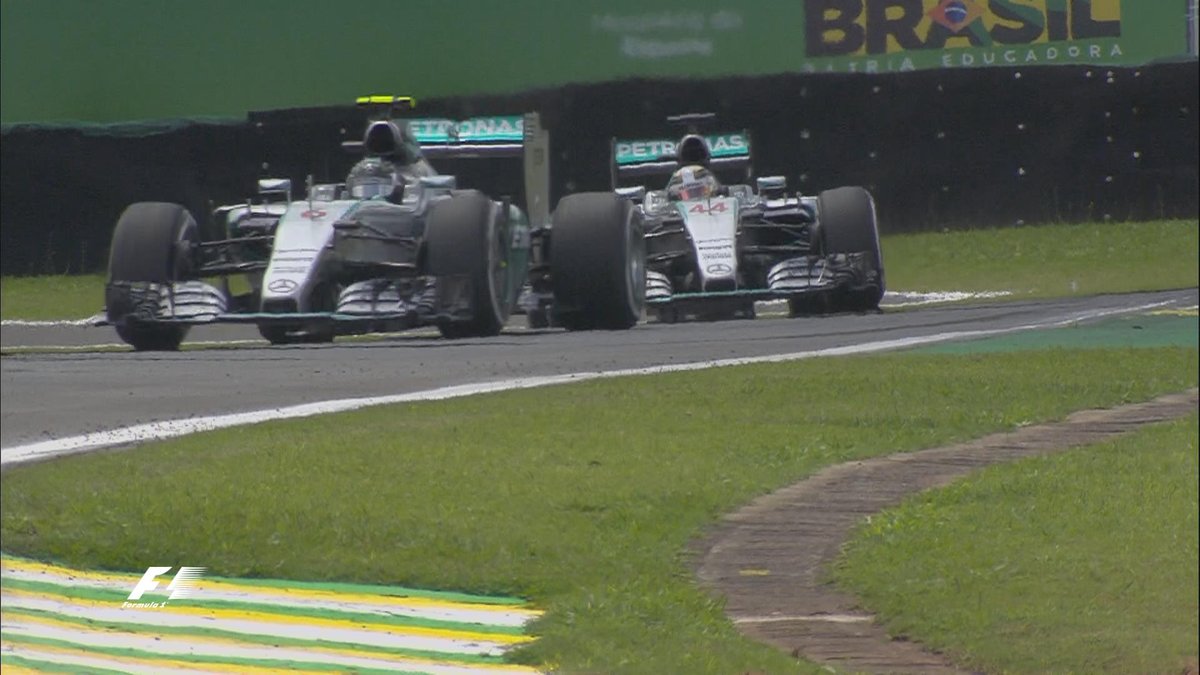 He soon asked his team whether they could put him on another strategy so that he had a chance to pass at it was proving nigh on impossible to do so otherwise. Somewhat annoyingly, Mercedes were not allowing either of their drivers to switch strategy during races anymore; perhaps a paranoid method of preventing the previous strategic faux-pas seen at Monaco earlier this year. This was all well and good for the team, but not what the fans wanted to see as it was preventing race battles.
Further back, one team were changing their strategy mid-race. Sebastian Vettel pitted early on lap 33, with Rosberg forced to stop the next lap to cover him off and prevent a potential under-cut. The team called Lewis in on the next lap and he emerged behind 2 cars; including Kimi Raikkonen who had yet to pit. This cost Lewis time to his team-mate as he worked his way back by to get into 2nd place.
The positions and gaps largely stayed static on this stint, with the final stops beginning at the end of lap 48 with Sebastian Vettel pitting from 3rd place. Nico Rosberg came in at the end of the next lap, with Hamilton following suit the lap after. The leading trio remained in their positions, but Hamilton soon started to close in thanks to the leaders hitting lapped cars. The gap was down to 1.1 seconds with just under 20 laps to go; with Rosberg soon asking his team not to talk anymore to him on the radio so that he could concentrate.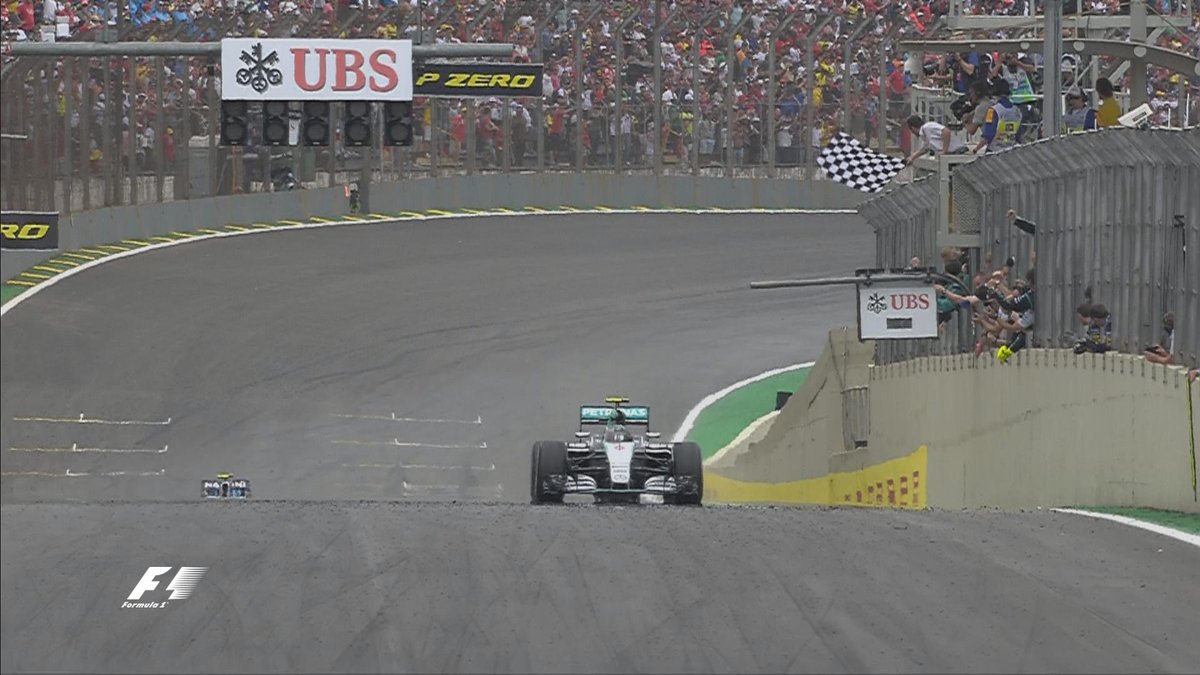 The concentration did the trick for Rosberg, as he would continuously increase his lead over the last stint to build up a 7 second lead as he rounded the 71st and final lap of the Brazilian Grand Prix. He would cross the line to take his 2nd win in a row, with his 25 points haul being enough to claim him 2nd in the championship over Sebastian Vettel; meaning that the final race in Abu Dhabi is now completely pressure free for both Hamilton and Rosberg.
Sebastian Vettel did all he could to try and keep the runner-up battle going onto the final round, but 3rd place wasn't enough to do so. The result was his 13th podium of the season. 4th would go the way of his team-mate Kimi Raikkonen, who was the last driver not to be lapped by the race winner Nico Rosberg.
5th place would go to Valtteri Bottas, who was unable to advance any further after getting up into that position right at the start of the race. An impressive 6th place finish would go to Nico Hulkenberg in the Force India, who held off a late charge by 7th placed Daniil Kvyat.
8th would go to home-hero Felipe Massa, who will go to the stewards after the race after the FIA discovered abnormally high tyre temperatures on the grid; perhaps due to a faulty tyre blanket. Completing the top 10 were Romain Grosjean and Max Verstappen; with the pair both being involved in great battles throughout the race. Verstappen in particular pulled off several sensational moves at the Senna S; once again showcasing his great talent and tenacity in the Toro Rosso.
Only one driver failed to finish the race, with the aforementioned Carlos Sainz subjected to watching the race from the pit-wall after his lap 1 reliability issues.
2015 Brazilian Grand Prix results:
| | | | | |
| --- | --- | --- | --- | --- |
| POS | Driver | Team | Points | Grid |
| 1 | Nico Rosberg | Mercedes | 25 | 1st |
| 2 | Lewis Hamilton | Mercedes | 18 | 2nd |
| 3 | Sebastian Vettel | Ferrari | 15 | 3rd |
| 4 | Kimi Raikkonen | Ferrari | 12 | 4th |
| 5 | Valtteri Bottas | Williams | 10 | 7th |
| 6 | Nico Hulkenberg | Force India | 8 | 5th |
| 7 | Daniil Kvyat | Red Bull | 6 | 6th |
| 8 | Felipe Massa | Williams | 4 | 8th |
| 9 | Romain Grosjean | Lotus | 2 | 14th |
| 10 | Max Verstappen | Toro Rosso | 1 | 9th |
| 11 | Pastor Maldonado | Lotus | Lapped | 15th |
| 12 | Daniel Ricciardo | Red Bull | Lapped | 19th |
| 13 | Sergio Perez | Force India | Lapped | 12th |
| 14 | Felipe Nasr | Sauber | Lapped | 10th |
| 15 | Jenson Button | McLaren | Lapped | 16th |
| 16 | Fernando Alonso | McLaren | Lapped | 20th |
| 17 | Marcus Ericsson | Sauber | Lapped | 13th |
| 18 | Will Stevens | Manor | Lapped | 18th |
| 19 | Alexander Rossi | Manor | Lapped | 17th |
| 20 | Carlos Sainz | Toro Rosso | DNF | 11th |
Interested in Sponsorship?
Time for a chat then!
Fill the form below to receive news and updates about the sponsorship industry and the world of RTR Sports.
Check your inbox: one of our consultants will be in touch in minutes.